what a Fiesta 2022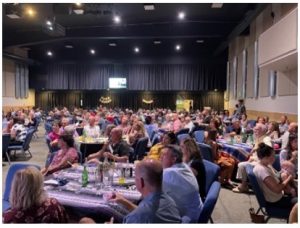 We had a wonderful turnout for the 2022 Fiesta Fund Raiser that was held on
September 29 at the Tulare Community Church. Dave Schlick emceed the
event and the dinner was prepared by our Mexican friends from Ensenada.
The main purpose of the event was to raise funds for the operating budget for
Village of Hope. The upcoming operating budget is $188,844 and it is money
well spent. It keeps all the programs going the are needed at the Village of
Hope, including the feeding programs, after school programs and the pastors
small salaries. This year the Fiesta raised about $30,000 in donations, another
$350 per month in pledges. In addition, one of our supporters raised $21,000
prior to the banquet. We praise God for everyone's generosity. We know that
several of you were not able to attend the banquet, but you still want to donate
to Village of Hope. We still need to raise $133,000 for the operation budget,
not to mention several capital improvements that we are raising funds for. Your
support is needed and would be greatly appreciated. One time gifts may be
mailed in the inclosed envelope or you can go to www.vohi.org to donate
online. Since most of our expenses are due monthly, we really appreciate our
monthly donors. The best way to donate monthly without any administration
cost is to set up a bill pay directly with your bank. Just put in Village of Hope
International with our address, PO box 1745, Tulare, CA 93275 and we will
deposit your monthly donation.